'JOURNEY INTO ABSTRACTION'
Solo Exhibition by Dana Naser
An Artist's journey in progress
"Art is creation, transformation and a medium of expression". says Dana Naser.
Art has always been important to this Dubai – based Canadian, Jordanian artist, designer and photographer with a bachelor's degree in visual communications from the University of Indianapolis – USA. Throughout her life, she collected images, experiences and emotions expressing them through her art, relying on intense colors and incorporating various forms, patterns and textures, channeling this talent through her work.
Dana Naser's abstract art explores her intuitive creativity, creating impressions with textures, visual form, color and spontaneity. She concentrates on creating abstract surfaces with different medium such as; acrylics, oils, pastels, ink … etc as she continues to experiment with a variety of mixed media including wire, fabric, silk screen and many others.
A Journey of Self Discovery
Each canvas tells a story of Dana's personal journey to discover her identity as an artist. She takes her inspiration from day to day experiences and emotions turning them into physical and visual expressions with constantly changing colours and forms. Dana is captivated by the colours and nonrepresentational forms she creates, and strives to construct an entire world on her canvas. Her style is abstract expressionist and she paints intuitively, drawing upon her emotions and imagination rather than working from photographic images.
Dana paints to 'express' creating numerous abstract images. Her art style is very contemporary, using different art methods & techniques. She is not afraid to experiment & mix colors or mediums, as to Dana, art is an adventure. Her interest lies in the variety of elements involved in the creation and destruction of surfaces – regularity and irregularity and the relationship between minimal form and surface texture.
Regarding her very personal creative expression, Dana says, "My paintings represent an ongoing quest to discover details around me and to reveal what cannot be expressed with words. I strive to tap into intuitive creative painting and share it in visual art on canvas. Every time I start a new painting, I take a moment to allow this creative energy to flow allowing me to "play"; experiment and allow the paint to take its different forms and to communicate something, creating an impression on the viewer – without natural imagery or symbols, but rather with pure visual form".
Dana's work has evolved, deepened and developed in line with the ever-changing phases of her life. She continues on her journey to success.
RSVP
RSVP Art & Coffee Morning Thursday March 2, 2017
11:00am – 1:00pm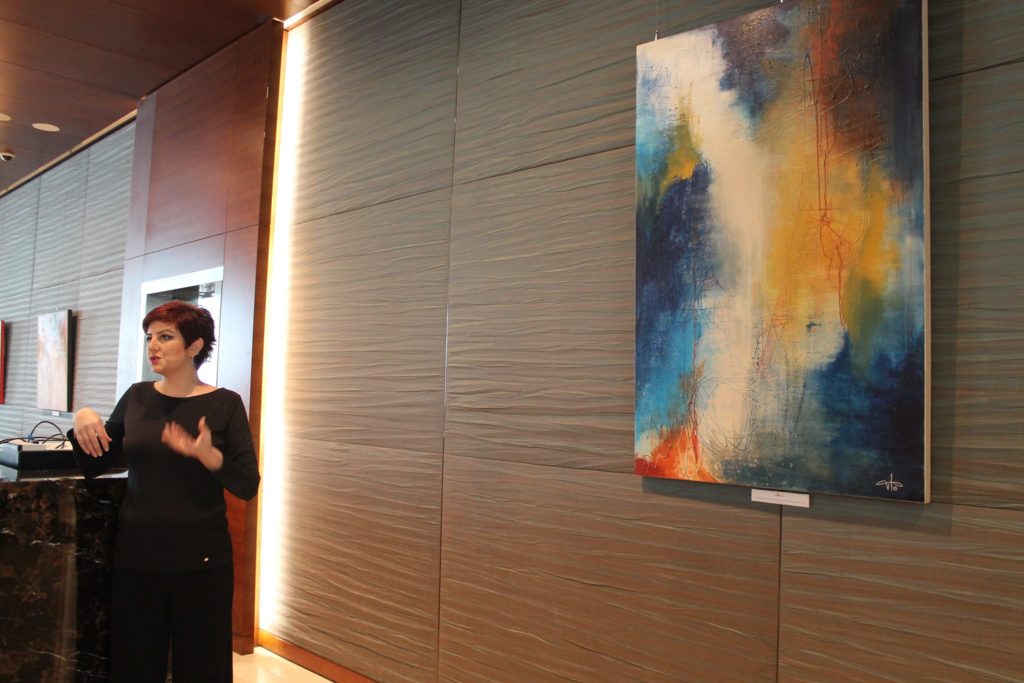 Exhibition Info:
Exhibition Starts February 25 to March 31, 2017
(Daily Free Viewing 10am -10pm)
RSVP Art & Coffee Morning Thursday March 2, 2017
11:00am – 1:00pm
Venue: Art Couture at InterContinental, Dubai Festival City, Event Centre, Lobby Level, Dubai UAE.
Contact: [email protected]
or [email protected]
www.artcoutureuae.com
Tel: 971 4 701 1111 ext 2101
Cell: 971 50 598 8206